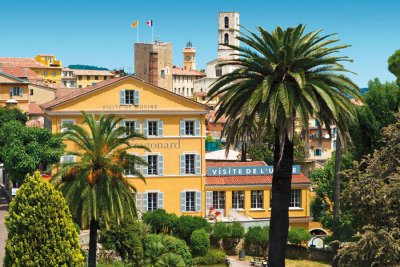 The Fragonard perfumerie in Grasse
Become intoxicated with a thousand wonderful fragrances by visiting the factory and museum of the mythical perfumer Fragonard in Grasse.
This magnificent historic factory in the centre of Grasse, completely renovated and enhanced in 2013, opens the door to a journey of discovery of the mysteries of traditional perfumery, from the treatment of raw materials to the packaging of finished products.
Visit the Fragonard Parfumeur factories and museums
Stroll around the distilling room with its huge stills, the packaging room where perfumes are bottled and labeled, the maceration and filtering room, the soap factory, the perfume-making workshops with their fascinating perfume organs… You can also visit the flower factory and the Eze laboratory factory.
It's also the ideal opportunity to learn more about the rich heritage of the Provence Alpes Côte d'Azur region thanks to 3 museums: the perfume museum, the Provencal costume and jewelry museum and the Jean-Honoré Fragonard museum.
Your hotel near Fragonard Parfumeur is less than 30 km from Grasse, allowing you to easily reach these fascinating places, open to the public every day from 9 a.m. to 6 p.m.