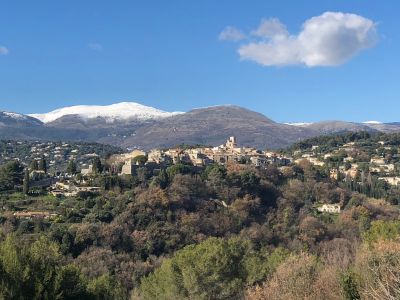 The hinterland of Nice
The Alpes Maritimes region is full of charming little places to visit. From the Cayrons de Vence hotel, in the heart of the Nice coutryside, you can visit all the most beautiful places in Provence.
Far from the tumult of the French Riviera, the coutryside of Nice is rich in charming hilltop villages and in valleys and mountains to discover during a stroll or a hike. Take, for example, the Painters' Route: start from La Colle-sur-Loup and after a short ascent and passing through Vence, join Saint-Jeannet by the "Balcons d'Azur" greenway cycle route. Then descend towards Cagnes-sur-Mer via La Gaude, crossing the Collettes district where the property of the impressionist painter Auguste Renoir is located, now a museum. Then, at the mouth of the Loup, cross Villeneuve-Loubet.
Your hotel in the Nice countryside close to all the most beautiful Provencal villages
There is nothing more charming than these historic hilltop villages, scattered among fields of mimosas, vineyards and olive groves. Your Cayrons hotel is located next to two of the most beautiful: Vence and Saint-Paul de Vence.
We recommend that you visit the old village of Cagnes, a 5-minute drive away, or Eze village, located halfway between the hotel and Monaco. But also, Old Antibes with its ramparts and its port, the largest marina in the Mediterranean where you will be sure to find some of most impressive Super Yachts in the world.