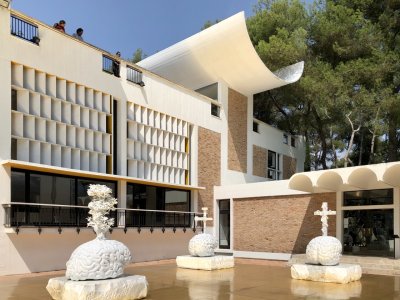 The Maeght Foundation
Take advantage of your stay at the Cayrons hotel near the Maeght foundation to discover some of the most fantastic artistic creations of our time. Located in Saint Paul de Vence, the Maeght Foundation is only 9 minutes and 5 km by car from your Cayrons de Vence hotel.
The path to the Maeght foundation is very pleasant walk, taking the Chemin Sainte-Claire. 3 chapels and the convent of the Dominican Sisters lie on the way which offer very beautiful views of the village.
Discover the greatest contemporary artists at the Maeght Foundation
It all started in 1964 when the couple Aimé and Marguerite Maeght created with the Catalan architect Josep Lluis Sert a foundation of modern and contemporary art in which some of their artist friends participated: Joan Miro, Marc Chagall, Alberto Giacometti, Georges Braque, Alexander Calder or Fernand Léger.
Discover this magical place and its breathtaking permanent and temporary exhibitions, organized throughout the year.
Open every day from 10 a.m. to 7 p.m. (July-August) and from 10 a.m. to 6 p.m. (for the rest of the year). More info on the Maeght Foundation website .