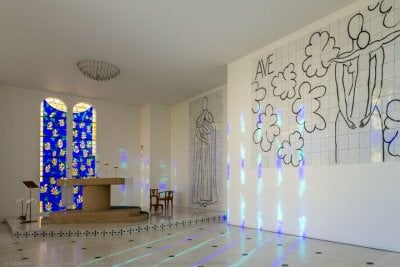 Mattisse's Chapel
The Cayrons de Vence hotel is is only 4 km from the Matisse Chapel, less than 10 minutes by car.
The chapel of the Rosary of Vence is also called the Matisse chapel. Why ? Because this small chapel erected from 1949 to 1951 in Vence for the Dominican Convent, designed by the architect Auguste Perret, was decorated by the great artist Henri Matisse and consecrated on June 25, 1951.
Visit the Chapel of the Rosary in Vence, a true masterpiece by Henri Matisse
This sacred place, unique in the world and still occupied by Dominican sisters, was entirely designed and decorated by the painter Henri Matisse, considered at the time as his masterpiece.
Unassuming from the outside, the Matisse chapel unveils its treasures inside: stained glass windows reflected on the marble floor, three wall panels representing the Stations of the Cross, the Virgin and Child and Saint Dominic and specially created chasubles by the artist, just for the chapel.
La Chapelle Matisse is open all day on Tuesday, Thursday and Friday. And in the afternoon only on Wednesday and Saturday. More info on the Matisse Chapel website.